Recorded 11 Feb 2015 with Ellen Gibling
Written by Graham Lindsey
https://grahamlindsey.com
This is the first tune of mine that I'd played in public – now named for Grit Laskin, maker of fine stringed instruments, and without which I wouldn't have written any tunes at all. Thanks, Grit!
Harp accompaniment by Ellen Gibling, a harpist working in Halifax.
Video
Sheet Music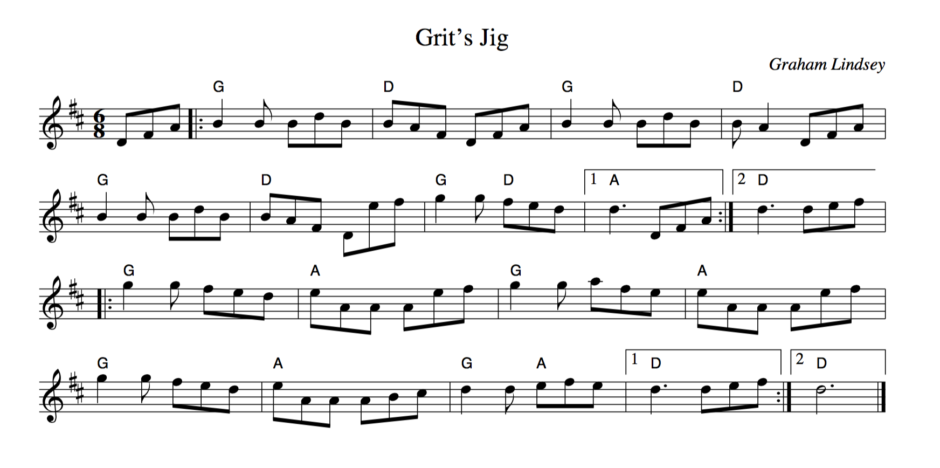 File Downloads
(right-click to download to your computer)
ABC Notation
X: 1
T: Grit's Jig
C: Graham Lindsey
R: jig
M: 6/8
L: 1/8
K: Dmaj
O:Canada; Ontario; Ottawa
DFA |: "G"B2B BdB | "D"BAF DFA | "G"B2B BdB | "D"BA2 DFA |
"G"B2B BdB | "D"BAF Def | "G"g2g "D"fed |1 "A"d3 DFA :|2 d3 def
|: "G"g2g "D"fed | "A"eAA Aef | "G"g2g "D"afe | "A"eAA Aef |
"G"g2g "D"fed | "A"eAA ABc | "G"d2d efe |1 "D"d3 def :|2 d6 |]